Hello Loves!
This month I participate in the Blogger 2 Blogger Book Club over at Kelly's Kinda Crazy. Everyone should go check it out for the next months!
The Book: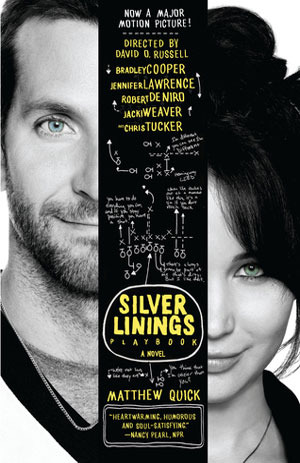 Meet Pat. Pat has a theory: his life is a movie produced by God. And his God-given mission is to become physically fit and emotionally literate, whereupon God will ensure a happy ending for him — the return of his estranged wife Nikki. (It might not come as a surprise to learn that Pat has spent time in a mental health facility.) The problem is, Pat's now home, and everything feels off. No one will talk to him about Nikki; his beloved Philadelphia Eagles keep losing; he's being pursued by the deeply odd Tiffany; his new therapist seems to recommend adultery as a form of therapy. Plus, he's being hunted by Kenny G!
---
The Questions:
How does the book redefine happy endings? What makes Pat so determined to believe that every cloud has a silver lining?
Pat is holding out for the silver lining cause he wants to be happy. I believe that in every situation, you will always reach the silver lining. Sometimes the journey may not be the best but you will get there. Pat's journey to being happy may have not been the best but he reached. Sometimes you have to go through tough times because you get that happy ending.
Did Dance Away Depression have any healing effect on Pat?
Yes it did. I think it help him get through some bad times. It was an outlet to get his anger out.
What did Tiffany want him to hear when she chose "Total Eclipse of the Heart" as their song?
Tiffany wanted him to realize that she was in love with him.
How did your impressions of Nikki and Tiffany shift throughout the novel?
Both of Nikki and Tiffany are witches. I never liked Nikki at all. She was a total self-absorbed, snotty little witch. Instead of trying to work though her marriage problems, she cheated on Pat. On the other hand, I loved Tiffany from the very beginning. She truly cared about Pat. Her methods may not have been the best, but she did it with her heart.
---
My Thoughts:
This is one of my favorite books. I've read it a good two or three times now. The storyline is perfect. The characters are very well written. I loved Tiffany from the beginning. She may be a total witch but she did everything because she cared about Pat. The connection that Pat has with every one regarding the Eagles is the sweetest. His dad does care about him, even if it just because the Eagles are winning. It's such a heartwarming book. It shows that we can believe in happy endings, even if the path to get there isn't happy. Everyone should go and read this book.
∗∗∗∗∗

(5 Stars)
♥ Jennifer