Linking up with Sheila
Hello Loves!
This weekend was really good to me, reading wise. I guess being sick helped. I was able to finish two books that I've been meaning to finish. Reviews coming soon! Here is what I started over the weekend.
For my eyes: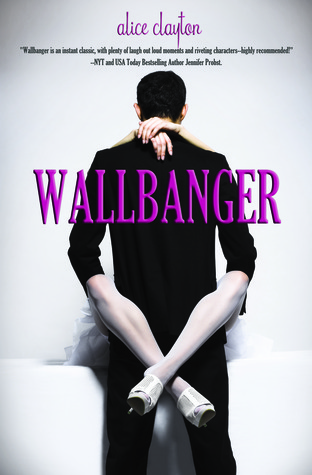 via goodreads
The first night after Caroline moves into her fantastic new San Francisco apartment, she realizes she's gaining an intimate knowledge of her new neighbor's nocturnal adventures. Thanks to paper-thin walls and the guy's athletic prowess, she can hear not just his bed banging against the wall but the ecstatic response of what seems (as loud night after loud night goes by) like an endless parade of women. And since Caroline is currently on a self-imposed dating hiatus, and her neighbor is clearly lethally attractive to women, she finds her fantasies keep her awake even longer than the noise. So when the wallbanging threatens to literally bounce her out of bed, Caroline, clad in sexual frustration and a pink baby-doll nightie, confronts Simon Parker, her heard-but-never-seen neighbor. The tension between them is as thick as the walls are thin, and the results just as mixed. Suddenly, Caroline is finding she may have discovered a whole new definition of neighborly…

In a delicious mix of silly and steamy, Alice Clayton dishes out a hot and hilarious tale of exasperation at first sight…
*I'm only a chapter or two in and so far it's pretty good. Caroline just moved into the apartment and already she is having troubles. I can tell there is a recipe for disaster brewing*
For my ears:
There is nothing gutsier to me than a person announcing that their story is one that deserves to be told," writes Lena Dunham, and it certainly takes guts to share the stories that make up her first book, Not That Kind of Girl. These are stories about getting your butt touched by your boss, about friendship and dieting (kind of) and having two existential crises before the age of 20. Stories about travel, both successful and less so, and about having the kind of sex where you feel like keeping your sneakers on in case you have to run away during the act. Stories about proving yourself to a room of 50-year-old men in Hollywood and showing up to "an outlandishly high-fashion event with the crustiest red nose you ever saw." Fearless, smart, and as heartbreakingly honest as ever, Not That Kind of Girl establishes Lena Dunham as more than a hugely talented director, actress and producer-it announces her as a fresh and vibrant new literary voice.
*This books is narrated by the author. I started listening to this book because I needed something funny after my last two books. I've been enjoying this book so much. I find myself wanting to drive somewhere just so I can listen to it. Disclaimer: I only listen to books when I'm in the car.*
– Jennifer