Linking up with Sheila
Happy Monday Loves!
This weekend was spent getting the house ready for Thanksgiving! We put up our holiday lights in between the rain storms and cleaning the inside of the house. I could use a break from my weekend. I'm looking forward to Thursday and all the family time. Plus Turkey!
Since today's Monday, it's time to take a quick peek at what I'm reading.
---
For My Eyeballs: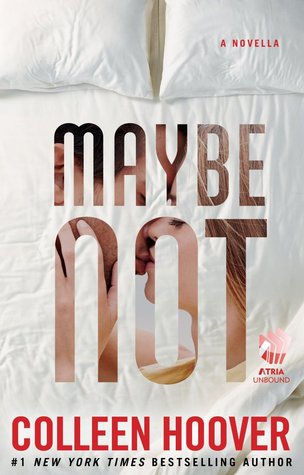 Colleen Hoover, the New York Times bestselling author of Maybe Someday brilliantly brings to life the story of the wonderfully hilarious and charismatic Warren in a new novella, Maybe Not.
When Warren has the opportunity to live with a female roommate, he instantly agrees. It could be an exciting change.
Or maybe not.
Especially when that roommate is the cold and seemingly calculating Bridgette. Tensions run high and tempers flare as the two can hardly stand to be in the same room together. But Warren has a theory about Bridgette: anyone who can hate with that much passion should also have the capability to love with that much passion. And he wants to be the one to test this theory.
Will Bridgette find it in herself to warm her heart to Warren and finally learn to love?
Maybe.
Maybe not
* There are so many feels so far. I loved Bridgette and Warren in Maybe Someday. I can't wait to hear their story.*
---
For My Ears:
Before. Miles "Pudge" Halter's whole existence has been one big nonevent, and his obsession with famous last words has only made him crave the "Great Perhaps" (François Rabelais, poet) even more. He heads off to the sometimes crazy, possibly unstable, and anything-but-boring world of Culver Creek Boarding School, and his life becomes the opposite of safe. Because down the hall is Alaska Young. The gorgeous, clever, funny, sexy, self-destructive, screwed-up, and utterly fascinating Alaska Young, who is an event unto herself. She pulls Pudge into her world, launches him into the Great Perhaps, and steals his heart.

After. Nothing is ever the same
*I'm giving John Green one last try. He better not make me ugly cry again*
---
What are you reading this week?
– Jennifer