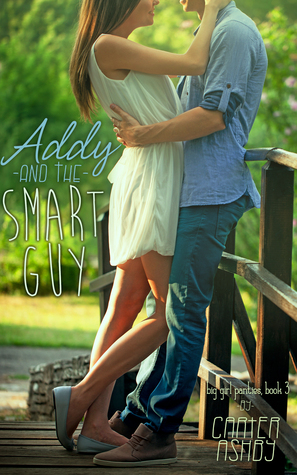 Book Information:
Title: Addy and the smart guy (Big Girl Panties #3)
Author: Carter Ashby
Format: ebook from Netgalley
Release Date: March 10th 2015
Genre: Fiction, Romance
---
Synopsis
If it weren't for her best friends, Zoey and Maya, Addy Hart would be a prudish, uptight Barbie doll. Thankfully, through love and persistence, they've helped introduce her to her wild side. Unfortunately, even her wild side doesn't have the courage to go after the one thing she wants more than life itself.
Dr. Greyson McDaniel has resisted his lovely teaching assistant for three years, now. He has no intentions of endangering his job or her reputation. But as spring break approaches, he's seized with a wicked impulse. He invites her to his mountain retreat for a week. Just one week of intense escape.
What they both discover after their affair is that a week isn't nearly enough. But as much as they long to be together, there are obstacles in their way, and the ethics of student-teacher relationships are the least of their problems. When she realizes how deeply rooted Grey's commitment issues are, Addy begins to despair of ever having a happy ending with him. But Addy's love might be just what's needed to free him of his past.
---
My review:
– This book was amazing. I was rooting for Addy and Greyson from the very beginning. I wanted them to get their happy ending from page one. 
– Even through ethically, a professor shouldn't do anything with his student, it is still a great love story. It's got forbidden love that turns into something more. 
– The road to their love didn't come without drama. There was just the right amount of drama to make everything flow together. 
– Even though this book is a part of the series, it worked well as a standalone.